Our friendly, knowledgeable staff works hard to make your visits to our office as smooth as possible. We've provided helpful information about our office on this page, including directions, hours, insurance and billing, payment options and financing.
DuPage Pediatrics, Ltd
1306 Plainfield Rd
Darien, IL 60561
Phone: (630) 810-0900
Fax: (630) 810-0937
Appointments
Patients are seen by appointment only. Each child to be seen by a doctor will need to have their own appointment. We reserve time every morning, late afternoon and early evening for sick children who need to be seen right away. If your child becomes ill and needs to be seen by a physician, please, if at all possible, call our office between 8:00 am and 9:30 am for a morning appointment, and before 6:00 pm for an evening appointment. Sick children can normally be seen within 12-24 hours.

To schedule a well exam appointment, please call our office during office hours. Please call early to schedule an appointment, as we schedule well exams 4 months in advance.
The length of your appointment will depend on the reason your child is here to see us. A well-baby or well-child exam will last approximately 15 minutes, and a sick-child visit will last approximately 10 minutes. A consultation or complicated problem will require more time. Please let us know if you'll require more time.
If we have not seen your child before, please bring your child's immunization record and any other pertinent medical records that you may have. If you have any question about your child's health, please feel free to bring a written list of questions that we can discuss during the visit. This will maximize the benefit of your visit with us.
lf you are unable to keep your appointment for any reason, please notify us, preferably at least 24 hours in advance, so that someone else can take advantage of that appointment time. Without 24 hour notification, a fee of $75 will be charged.
When to Use the Emergency Room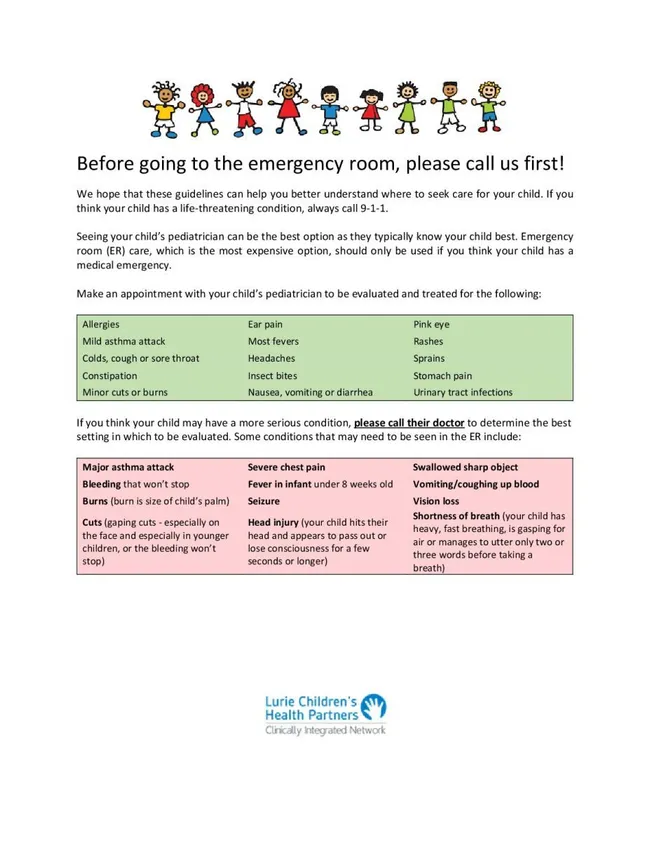 Telephone Calls
Many questions or concerns about your child can be handled over the telephone. The first step in getting advice on how to care for your child is knowing when and how to call your pediatrician. ln order to get the greatest benefit from your call, please follow these suggestions:
For routine (non-emergency) questions, please try to call during office hours. One of our receptionists will answer your call. Please give your name, your child's name and age, and your main question or concern. Your call will be returned later that day by a nurse or doctor.
lf you are calling about an emergency, please state "This is an emergency" as soon as the receptionist answers the phone. An emergency is considered to be a serious accident, injury or poisoning, bleeding that cannot be stopped, unconsciousness, severe breathing difficulties, convulsions, and sharp abdominal pain lasting more than two hours, a black or bloody bowel movement in an infant, or a child who appears or acts severely ill.
lf your child is sick, always try to take the child's temperature before calling for advice.
When you call our office, have a pencil and paper ready to write down the instructions that the doctor or nurse gives you. Have the number of your pharmacy on hand so that the doctor or nurse can order a prescription if necessary.
Our nurses are trained to answer most of your questions, but we will be happy to return your call if you wish to speak directly to a doctor. We return calls periodically during the day – before lunch, before dinner, and after 8:00 pm.
lf your child becomes seriously ill after office hours or on a holiday. One of our physicians is always available by telephone 24 hours a day. Please call our office, and the answering service will be able to contact us to assist you. lf your after-hours call has not been returned within one hour. Please call again to make sure that the message and correct phone number have been conveyed.
In the event of a life-threatening emergency call 911, or call or go directly to the nearest Emergency Department. For an urgent, non-life threatening illness after hours, please telephone our office at (630) 810-0900 , or go to the Emergency Department at Hinsdale Hospital, as we are on staff at this hospital.
Insurance and Billing
Insurance Companies we accept:
Aetna
Humana
BCBS
Illinois Dept of Public Aid
Champ VA
Meridian Health Plan
Cigna
PHCS
First Health
Tricare
Great-West
United Healthcare
HFN
Payment
Please be sure to contact your insurance company to add your newborn to your policy ASAP to assure insurance payments for your claims.
Patients with state insurance need to be added to our physician roster. Call IHC at (877) 912-1999 to add your child to our roster.
*CoPays and charges for non-covered medical services are due and payable at the time of service.
*We submit claims for payments to your insurance company within 24 hours of your visit.
*Any remaining balance after your insurance company has paid will be your responsibility.
*Self-pay patients are responsible for 100% of charges at the time of service
*Payment may be made by cash, check, or credit card in person, by phone or online.
If you belong to a managed care or HMO medical plan, there are certain very important points you should be aware of.
It is essential that you are aware of services covered and not covered by your plan. Each plan is different in this regard and misunderstandings can be avoided if you are familiar with your specific plan.
Most PPO insurance plans require a co-payment. Please be prepared to pay this fee when you come to the office, it cannot be billed to you.
All insurance payment related questions should be first directed to your insurance company. General insurance questions can be directed to the business office 9:00 a.m. to 5:00 p.m., Monday through Friday, at (630) 810-0900. Our staff will gladly assist you and work with you to obtain the benefits you are entitled to. Please ask if you have questions regarding our fees, financial policies or your responsibility.
Financial Assistance
When circumstances make it impossible for you to pay your account in full, the business office will work with you to establish a payment plan. You will be asked to sign a letter of agreement relative to the payment plan agreed upon for automatic credit card monthly deductions.
We do not become involved in disputes between you and your insurance company regarding usual and customary charges, deductibles or covered charges other than to supply requested factual information.